Meredith, NH-- If you think riding the iconic M/S Mount is fun, try exploring a corn maze patterned on the famed ship. The lake was still frozen and the M/S Washington was wintering in Center Harbor when the team at Moulton Farm started planning their annual corn maze. John Moulton, owner of Moulton farm in Meredith, recalls few ideas for this year's theme were discussed, but then the idea of celebrating the Mount Washington came up. 
"Wes Thomas, who takes on our annual maze as part of his responsibilities at the farm, was quiet for a minute or two and then got this big grin on his face," explains Moulton. "You could almost see him picturing the possibilities of how he could use the ship's features and the name into to get people completely turned around and disorientated in the maze."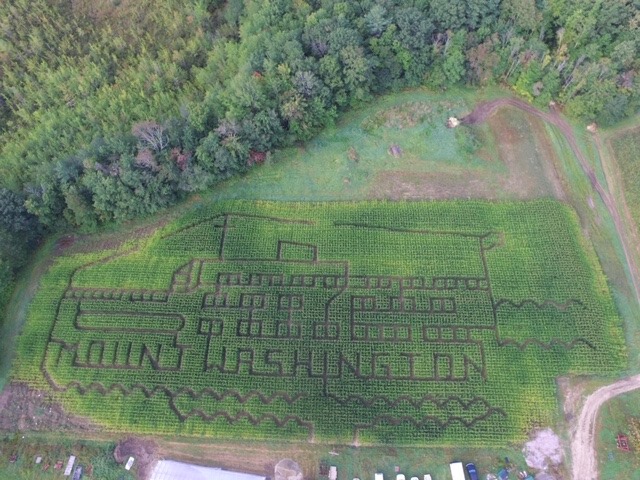 "When John asked me if I'd mind having the Mount Washington featured in the maze, I didn't have to even think about it," says Jim Morash, the captain, chief operating officer, and owner of the ship. "I absolutely said yes. Both the farm and the "Mount" have been key attractions in the lakes region for years. I've known John for a long time and really enjoy and respect what he and his team do there. Over the years, our ship has been portrayed on many things, but I'm pretty sure this is the first time it has been the subject of a corn maze!"
Morash isn't sure how he'll do navigating through the maze. "I've been navigating on Lake Winnipesaukee for years, but getting through the farm's maze? When all you can see is sky and the corn towering over you? Oh, I'll get lost for sure!" he says with a laugh.
Moulton Farm's corn maze opens for the season on Friday, September 20. It will be open seven days a week starting at 8 am with the last admission is one hour before the farm closes. Admission costs $7 per person with a special $5 rate for each child between 6 years and 3 years of age. Children under 3 years old are free.  
In addition to the corn maze and the farm's "pick your own" pumpkin patch there are other reasons to visit the farm including the Cider Bellies Doughnut stand, pies and whoopie pies and other items from the farm's kitchen and bakery, and special events happening at the farm. More information is available at moultonfarm.com
Moulton Farm is located at 18 Quarry Road off Route 25 in Meredith and is open seven days a week. 
The farm practices sustainable agriculture and is dedicated to providing the highest quality fruits and vegetables while preserving its rich soil for future generations. In addition to growing its own produce, the farm offers fall decorating supplies including a full range of fall favorites such as pumpkins and gourds. The farm also offers baked goods, prepared foods, cider doughnuts from Cider Bellies, seafood from Sal's Fresh Seafood, and a quality selection of meats, cheeses and other items from northern New England producers. More information can be found at www.moultonfarm.com.
Suggested caption: Moulton Farm's annual corn maze celebrates the M/S Mount Washington this year. The farm's maze opens for the season on Friday, September 20 and will be open seven days a week. More information can be found at moultonfarm.com. And the Mount is causing into October, see more at www.cruisenh.com
Moulton Farm's Corn Maze 2019
http://moultonfarm.com/corn-maze
.